How to Survive Your First Camping Trip with Kids
February 12, 2013

| in Nannies

By Erin McNeill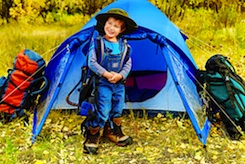 Camping in the outdoors can be one of the best ways to spend the warmer summer months with your family. It's a chance to unplug and spend time together, while experiencing the beauty of nature. However, it can also be one of the most daunting experiences a new parents faces, as traveling with kids is rarely easy, but it doesn't have to be! With a few simple tips, you can ensure that you will have a successful trip together! Plan – Planning is the key to making a camping trip successful! Involve the kids as much as possible in your planning; they can help choose where to go camping, activities to do while camping, meals you'll eat and even hiking trails to take. The more that they are involved in the process, the more likely it is that they'll have an experience that they will enjoy and take ownership over. Always have back-up plans, just in case! Practice – Show your kids what you'll be doing on a camping trip by starting small. Pick a nice evening to go camping in your backyard, show them how to set up the tent and have them help you! Build a small fire, if allowed in your neighborhood, and teach them about fire safety. On another occasion, take a day trip to a local state park and go for a hike, have a picnic lunch and go swimming if it's available. This will help your children acclimate to spending the day and night in the outdoors, especially if it's something they aren't used to. Prepare – Preparation is important! Have your children help prepare for the camping trip by packing their own bags (each child should have their own bag or container for clothing, toys and books), guide them through the process and double check that they have what they need for the trip. Ensure that you have a working tent and sleeping bags for everyone and that all of your gear is in working order. Organize – Create a packing list that you can check off as you pack up items for your trip. Separate cooking supplies and food into bins and containers. Have one bin of toys that everyone shares. Each person should have their own bag for their clothes and belongings, and you should encourage them to put their things in there when they aren't using them so that they can easily find them again later! Bring familiar and new toys – Have the children help you choose what toys they should bring camping with you. It's best to leave the electronics and expensive toys at home. Throw in some outdoor toys to have while you are camping! Paddle ball, discs and kites are always good ideas, as well as a few games to play while waiting around (Pass the Pigs is always an entertaining game to play while camping!). If you are staying at a park with roads and trails, bring along your bikes. Bring friends – Camping is always more fun with friends! Find a family that also loves camping and plan trips with them! If that doesn't work, consider allowing your children to bring a friend to play and hang out with on your trip. Enjoy nature – Take the opportunity to learn about the plants, trees, bugs and animals that are native to your camping environment. Enlist the help of the park rangers if they are available, as they will often have a wealth of knowledge to pass onto you and your family. Often times, parks will have educational events offered throughout the weekend, so take advantage of these learning opportunities! Take a day hike together and explore the trails (with a map, of course!), have your children start a nature journal or sketchbook and take the time to take notes about the beauty that surrounds you. Teach your children to respect the nature around them by not picking live plants or flowers and emphasize the importance of leaving no trace behind. Enjoy the night – Being outside at night can be a new and sometimes scary experience for children, who are used to being inside once it's dark out. Make nighttime fun! Teach your children to safely build a campfire and roast marshmallows together, tell stories to each other, learn about the constellations, discover the new sounds you are hearing at night and give each child a flashlight to help them feel a bit safer. Pack the right
clothing – Your children will get dirty and wet while camping, so make sure you pack plenty of extra clothes! Your child's comfort will depend on the fact that you've packed enough clothing and the right types of clothing for your trip. Be sure that each child has plenty of clothes for daytime, at least two swimsuits, a pair of pants, a fleece sweater, a rain jacket, a hat and anything that you might need for the climate you are camping in. Teach them to layer their clothing as the evening cools off. Safety
– Instruct your children on a meeting spot in case of an emergency; pick a tree or nearby building that you can all easily find in the event that something happens. Instruct them on proper fire and stove safety to avoid burns. If your child wanders off into the woods, teach them to stay put once they realize they are lost and to make noise! If there is water nearby, let them know that they are not allowed near the water without an adult, even if a lifeguard is on duty. If there are dangerous animals in the area that you are camping in, show children what do if they encounter one. Take your time and start slow, go for a night or two and work up to a length of time that is comfortable for your entire family! Your family will begin to cherish your trips to various campsites and will start to look forward to their time away from home. Camping is fun with children; you just have to be well prepared and ready for just about anything!
← The Importance of Workshops and Conferences for Nannies | 8 Reality Shows With Real Life Nannies Taking Center Stage →
Comments are closed.
Search for nanny jobs
in your zipcode: