100 of the Best Websites for Kids' Activities
May 12, 2014

| in Nannies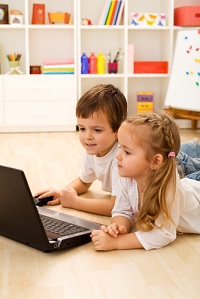 Computers have gotten a bad reputation as of late, especially when it comes to the amount of time kids are spending in front of them playing games and wasting time. However, not all screen time is bad, and the time your kids spend on the computer can be both educational and beneficial in many different ways. You can find computer-based educational games, projects, activities, books and much more for kids of all ages, making any time they spend in front of the computer screen time that's well spent. These 100 sites will provide an extensive list of sites that you and your kids can investigate and try out at your leisure.     
Preschool Games and Activities Online
Young children have a knack for picking up on technology quickly, and can become very adept at using the computer in a relatively short amount of time. Playing online gives your child a stimulating way to learn his numbers, letters, sounds and much more simply by listening and interacting with the games. The colorful, animated qualities of these online games make them entertaining for young users, and learning to use a computer early on will prepare your child for the real world ahead of him. For plenty of preschool games, check out these 20 posts.christian louboutin sale,ralph lauren sale,louis vuitton bags outlet,cheap michael kors handbags sale,cheap wedding dresses online
Elementary Games
When children start school they will begin rapidly learning new skills. Computer websites created just for young children provide a way for these primary students to practice what they are learning in school. Kids learn in different ways, so if your child doesn't learn well from a book or by rote memorization, then playing math and spelling games online might be just the thing to make a concept click. These 20 sites will provide entertaining ways for your primary student to learn and play online.
Elementary Story Sites
Kids learn to read more quickly when they hear the written word read to them aloud frequently. For families with two working parents, however, it's often difficult to find the time to do this. That's where some of these sites come in handy, since they provide audio files where the story is read aloud. Some sites even highlight the words while they are being read so that your child can follow along. Stories can also help to build your child's imagination and retention of what is being read, and some offer questions to check understanding. Look through these 20 sites to see if you can find some stories to read with your child.
Middle School Games
Older children are more computer savvy than ever these days, and there are a wealth of useful games to help them learn keyboarding skills, language skills, math skills and more. As kids enter middle school they are looking for more sophisticated games online, like Minecraft that can include Skyping with players from around the world as they play the game. Skills like leading a team and setting priorities are learned in this game. Some sites provide a new and different way to appreciate artwork, historical events and space travel. Kids won't even realize they're learning while playing these games!
Middle School Projects and Activities
There are many things your middle schoolers can do online that don't involve playing games. These 20 sites will provide instruction on different craft projects, science experiments, sewing lessons and more. Kids can use computers as a tool to learn a new skill, then work offline. Some skills can even lead to a new hobby, like blogging or writing. Find sites in this list that will explain how to get started in these hobbies. Encourage your middle schooler to check out these sites the next time he is bored and in need of something to do.
← 100 Tips for Building Good Relationships | 100 TV Free Activities →
Comments are closed.
Search for nanny jobs
in your zipcode: