100 TV Free Activities
May 26, 2014

| in Nannies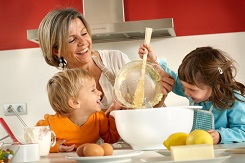 Kids' watching too much TV has become a hot topic in recent years, especially with the added weight gain that seems to come hand in hand with this sedentary activity. There's even been some talk about a potential connection between television and ADHD (Attention Deficit Hyperactivity Disorder). According to Psych Central, researchers in New Zealand have found that if a child watches more than two hours of television per day between the ages of 5 to 11, the chances of developing symptoms of ADHD are higher than for those kids who didn't. To keep your child busy and away from the television, try out these 100 TV free activities. Cooking with Kids Michelle Roberts from CBSin Boston writes that kids who get involved in cooking are more likely to eat healthy foods. And who doesn't want their kids to eat a healthier diet? These 10 sites explain how to involve your kids in cooking and detail how to make each recipe. Remember that the kids will need adult supervision for any recipes that require the stove or sharp knives.
Pretend Play According to Psychology Today, pretend play is important for cognitive development in children. Pretending allows children to become someone else and helps them work on their social skills. Learning the difference between what's real and what's pretend is also important for cognitive development and requires a lot of imagination, both of which are beneficial for children. Take a look at these 10 sites that explain further how you can encourage pretend play with your kids.
Craft ProjectsEncourage the kids to get creative and use their imaginations by doing some craft projects. If it seems like a project is going to be messy, save yourself some cleanup time later by putting down a vinyl tablecloth before you get started. These 10 craft projects are inexpensive, and many use items that you probably have at home right now. Creative projects will help grow your child's imagination.
Home Science ExperimentsScience experiments can be a lot of fun for kids. Depending on how old your child is you can let him be more hands on or you can do most of the experiment. You may want to read the experiment in full before you do it so that you can explain to your child what is happening. There's no reason the kids can't learn some science while they do these 10 activities.
Outdoor ActivitiesIf the weather is suitable, try to get the kids outside. Not only will the fresh air do them good, but it will give you a bit of a break. Mix up a batch of liquid chalk and let the kids get artistic. Have an impromptu treasure/scavenger hunt by putting out all the letters in the alphabet and asking the kids to find something for each letter from inside or outside the house. Another fun activity would be to create a bike and scooter obstacle course. For more fun ideas, check out these 10 sites.
Nature Activities Take a walk around the neighborhood or at a local park to check out nature. Whether you are bird watching or collecting leaves you can learn something about the world around you. Grab a sheet of paper and a pencil and have the kids draw a leaf or a bird that they see. If you want to get more involved in a long term project, help the kids plant a garden. These 10 sites are full of more ideas for having fun in nature.
SongsAccording to Matthew Freeman, development manager for "Sing Up", music and singing are not only fun for kids, but they also help them developmentally. "Sing Up" is a program that pairs music with education to help improve learning in children. Kids will retain more information if it is set to music than if they learn the information alone, says Freeman. These songs are not only a way to keep the kids away from the TV, but also a way to teach them something valuable. Check out the songs on these 10 sites and see how many you know.
Reading TitlesReading to your child will not only help him improve his literacy, it will also help him learn how to listen, how to use his imagination and different vocabulary words. As kids get older and start to follow along in the book, they begin to understand that books are read left to right and top to bottom. These 10 sites contain short stories and book suggestions.
GamesTeach your kids a new game and encourage them to get some exercise. Games like tag get kids off the couch and active. Maybe you remember some games from your childhood that you can share with your kids. If it's raining or cold out, break out the board games. To get some game ideas, read through these 10 descriptions.
Online Educational GamesSome people would say that screen time on a computer is the same as watching TV, but if you monitor how much time your child spends on the computer he can still benefit from playing educational games online. Many of these games work on hand/eye coordination, keyboarding skills, mouse skills and math and English. So when you are trying to get your child to watch less TV, don't forget that playing games on the computer can be a beneficial way to spend some time as long as it's not excessive. Check out these 10 educational gaming sites for yourself and see what you think.
christian louboutin outlet,ralph lauren sale uk,louis vuitton bags online,cheap michael kors bags sale,wedding party dresses 2014christian louboutin outlet,cheap ralph lauren polo,
cheap louis vuitton bags,cheap michael kors handbags,prom dresses on sale
← 100 of the Best Websites for Kids' Activities | 50 Tips for Starting Your Nanny Relationship off Right →
Comments are closed.
Search for nanny jobs
in your zipcode: