8 Reality Shows With Real Life Nannies Taking Center Stage
February 13, 2013

| in Nannies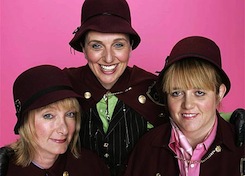 While the first reality show on television was arguably Candid Camera, which originally began airing in 1948, explosion in reality show popularity began in the summer of 2000, with shows like Big Brother and Survivor. Since then, reality shows have been launched with a focus on anything you can think of, from pawn shops to alligator hunters. Nannies and the world of private, in-home childcare are no strangers to reality programming either, with several shows featuring a private caregiver at some point or another. Whether their primary focus is the nanny industry or they simply feature a nanny from time to time, these eight shows have all featured a "real" nanny.
SuperNanny – While SuperNanny originally aired in the United Kingdom, star Jo Frost truly took off in America, due partially to her buttoned-up, stereotypical portrayal of a "British nanny." Rather than actually caring for children, Ms. Frost came into the homes of troubled families burdened by a complete lack of respect or good behavior with aims of correcting the parenting styles that led to such antics. As a result, there is a relatively large cross-section of parents who believe nannies to be more like behavioral experts and child trainers than caregivers. After seven seasons on the air, Jo Frost stepped down from her role as SuperNanny.
Nanny 911 – Another nanny program pandering to the stereotype of the British nanny reigning in unruly American children, Nanny 911 was the Americanized version of a British program called Little Angels. "Nanny Deb," "Nanny Stella" or "Nanny Yvonne" would be dispatched at the beginning of each episode to the home of a family struggling with multiple misbehaving children, clad in a uniform quite similar to the one worn by fiction's favorite nanny, Mary Poppins. Nanny 911 aired on FOX, then on CMT, until 2009.
Beverly Hills Nannies – Depicting a group of young nannies from around the country as they work for high-profile clients in swanky Beverly Hills, Beverly Hills Nannies has enjoyed a relatively high level of success. Nannies and childcare experts, however, take issue with some of the nannies' behavior, which is a bit less than accurate when compared against the professional demeanor of non-reality show nannies.
TMZ – The shock-gossip website TMZ was so popular that the staff eventually acquired their own reality show, blending breaking celebrity news with the daily workings of the morning bullpen meetings. While the tell-all nanny scoop is nothing particularly new in Hollywood, Britney Spears's former nanny Leah Frand made major waves on the paparazzi-fueled show

by making statements directly contradicting allegations leveled against the singer by her former life coach, Sam Lufti. Naturally, Lufti's rebuttal was comprised largely of calling Ms. Frand's story untruthful, but the tale did serve to bring both of the former entourage members their 15 minutes of television fame.

True Hollywood Story – The ugly divorce between Jon and Kate Gosselin of Jon & Kate Plus Eight fame was the stuff of reality show legend. Such was the buzz

around the couple that Kate Gosselin was even the subject of her own E! True Hollywood Story episode. On the show, ex-nanny Stephanie Santoro provided interviews and insights, even though she'd admitted to an illicit affair with the family patriarch.

Take Home Nanny – Originally airing on TLC, Take Home Nanny launched in July of 2008 and ran for one season. On the show, professional nanny Emma Jenner helped parents learn to establish boundaries and provide rational and effective discipline, all while instilling good manners in their children.
Wife Swap – The Spolansky/Bradley family episode of Wife Swap portrayed an extremely well-heeled couple from New York City and a blue-collar New Jersey clan. On the show, viewers discover that Jodi Spolansky was a stay-at-home mom with a staff of four nannies to care for her brood.
Giuliana and Bill – After a hard-won battle with fertility issues, Giuliana and Bill Rancic welcomed a son via gestational surrogate in 2012. One episode of their reality show featured the couple attempting to hire a nanny for the newborn Edward Drake, with rather amusing results.
For parents considering the prospect of hiring their first nanny, it's important to keep in mind that the world portrayed by reality television is subject to the skewed perception caused by sensationalist editing, prompting or even outright scripting. Few of these shows cast nannies or the private childcare industry in an accurate light, even the ones purporting themselves as documentary-style programming. Allowing your own perceptions of the industry or ideas about how nannies work to be shaped by reality shows is likely to leave you with a largely unrealistic view of private childcare.
← How to Survive Your First Camping Trip with Kids | 10 Tips for Helping Kids Be Independent →
Comments are closed.
Search for nanny jobs
in your zipcode: