10 Ideas for Summer Fun in Your Own Backyard
June 18, 2013

| in Nannies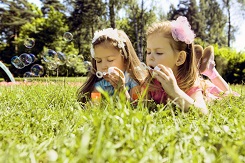 By Erin McNeill Summer is quickly approaching for kids, which means plans are being made, vacations are being scheduled and activities are waiting. With so much to do, it can seem like you're always on the go, and moments at home are rare. Sometimes, though, the fun can be found in your own backyard. Here are a few ideas to get you started on creating summertime magic.
Gardening – Have your child help you plan, plant and harvest a garden, then use those ingredients in your cooking together! Children are much more likely to eat things when they have had a hand in picking out the foods. Tomatoes, cucumbers, kale, strawberries, broccoli and

cauliflower are all fairly easy to grow in small spaces and are kid-friendly vegetables; start with a few and go from there.

Water games – On hot days, set-up water games in your yard! Start by organizing a balloon toss or a sponge relay; from there, move onto speedboat races where you set up some small plastic boats in a pool and have kids race each other by blowing the boats across to the other side. Have your kids come up with games to play!
Obstacle course – Use toys found in your yard to create an obstacle course for kids. Cones and hula hoops make great props to start with, and you can branch out from there by using boxes as tunnels, pool noodles as hurdles and whatever else you think of!
Bubbles – Bubbles can provide hours of backyard entertainment for kids of all ages (and adults!). You can make your own to save money and trips to the store by combining 2/3 cup of Dawn or Joy dish detergents, 1 gallon of water and 2-3 teaspoons of glycerin. Simply stir together and use! You can create your own bubble wands with yarn and straws or even pipe cleaners!
Treasure hunts – Use your yard to plan out a treasure hunt for kids. You can provide clues to each spot, and once they finish all the clues they will be led to the treasure (a cool treat, water toys or a beach ball).
Scavenger hunts – Create a list of items for kids to find in the backyard. They can work as teams or as individuals to collect the items. Once they have the items, have a project area ready for them to incorporate their found objects into an art project.
Lawn games – Lawn games always signal the beginning of summer! Teach your kids how to play bocce ball or croquet. Create a ring toss game together. You can even bring back some old favorites, such as kick the can or sardines.
Forts – Use boxes, tables, blankets and some string strung between trees to create massive forts and hideouts for kids!
Flashlight tag – There are many variations of flashlight tag, so adapt the game as needed. One version is where the person who is "it" has a flashlight and everyone else hides. Once the person who is "it" finds someone, they flash their light at them to signal that they've been caught. The last person caught is the new "it" in the next round.
Backyard camping – Have a

camp out in your own backyard! Set up your tent, fill it with blankets and pillows and sleep outside! It's a great way to introduce your kids to sleeping in the outdoors (the noises can be quite different!), while still being close to home with easy access to familiar comforts.
Summer is all about relaxing, creating your own fun and exploring new ideas. Let your imaginations take you to far off places where adventures await you and your children.
← Keeping Your Child Safe in the Sun this Summer | 10 Science Projects to Boost Investigative Skills in School-Aged Children →
Comments are closed.
Search for nanny jobs
in your zipcode: