10 Things a Thorough Nanny Background Screening Should Include
June 17, 2012

| in Nannies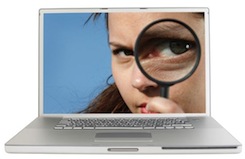 Whether you find your nanny through on online service, word of mouth or traditional nanny placement agency, parents have the ultimate hiring responsibility when it comes to deciding who will be caring for their children. The more information parents can gather about a prospective nanny, the more educated and informed their hiring decision will be.
For parents or hiring agents to run a background screening on a nanny candidate, the nanny candidate must provide authorization. Background screenings must also comply with the Fair Credit Reporting Act.
Confirmation of Identity. The basis of any accurate nanny background screening is ensuring that you are screening the actual individual who is applying for your job. Parents should verify the individuals' name, date of birth, Social Security number and driver's license number by cross referencing the information the nanny candidate has supplied on the application and background screening authorization form with information on the nanny candidates identifying documents.
Social Security Number Verification. The Social Security Number verification drives the criminal background check. When a Social Security Number is verified, it searches information provided by credit reporting bureaus, who gather information from individuals each time they apply for credit or open utility accounts.  The Social Security Number verification reports names, addresses and phone numbers that have been used in conjunction with the researched Social Security Number.
Criminal Records Check. Criminal records checks should be conducted in the jurisdictions for the addresses that were populated through the Social Security Number verification going back at least 7 years.  While many online sites advertise a free background check, they are typically referring to conducting a national registry search, which is an electronic database search. The national search should be used in conjunction, NOT in place of country court records checks because they are often outdated and do not house all records for all states. When parents request a criminal background check, they should ensure that the check includes both misdemeanors and felonies, since the records are often houses in different courts, in different indexes within jurisdictions.
Sex Offender Registry. The sex offender registry is accessible to the public at and should be checked as part of a thorough nanny background screening. The registry houses information on sex offenders.
Civil Records Search. Parents may want to request a civil records search on a nanny candidate to learn if any liens or judgments have been placed against a candidate or if the candidate.
Motor Vehicle Record Review. It is important for nannies who are transporting children to do so safely and responsibly. Parents should confirm that the nanny has a clean driving records, free from DUIs, OUIs and tickets for reckless or irresponsible driving.  In some states, employers may be able to request a copy of an individual's driving record, but in other states, the individual must request the copy and present it to the employer for review.
Credit Check. While many nannies feel that a credit check is too intrusive and has nothing to do with the quality of care that they will provide the children, some employers feel that insight into a nanny's credit history could reveal financial troubles, which could be a source of significant stress for the nanny candidate.
Reference Checks. Parents should speak with at least three references when screening a potential nanny, two of which should be previous employers. Parents should confirm the factual information the nanny candidate provided about the job, ask open ended questions and pay close attention to the tone and demeanor of the reference. What a reference doesn't say can be just as important as what she does.
Educational and License Verification. Parents should confirm that the information a nanny candidate has presented about her educational background, training and license is true and accurate. Parents can request copies of transcripts and diplomas and contact schools, colleges and licensing boards to verify the information provided.
Social Media Search. Parents may wish to search social media sites like Facebook, Pinterest, LinkedIn, MySpace and others to see if there is any information available about a prospective nanny. A Google search of the nanny candidate's name may turn up interesting information.
While no background check can offer a guarantee that a candidate is free and clear or wrongful doing or will be in the future, thorough background checks can certainly reveal information about a candidate that can help parents make informed and educated hiring decisions.
4Nannies and its sister sites recommend that all parents run a thorough background screening on the candidate they wish to hire. 4nannies and its sister sites have partnered with www.NannyBackgroundCheck.com  to offer nanny employers professional background screening services on prospective nannies.
← 7 Secrets to Successfully Traveling With Your Nanny | I Landed a Nanny Job Interview! Now What? →
Comments are closed.
Search for nanny jobs
in your zipcode: