10 Things Vegan Families Should Tell Their Childcare Provider
October 16, 2013

| in Nannies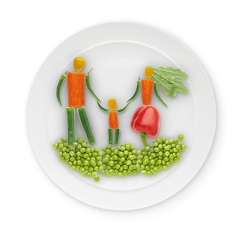 When you make the decision, as a family, to abstain from consuming any and all animal products, it's not always easy to convince others to accommodate your beliefs. This especially holds true when parents assume that childcare providers know what "vegan" means, only to find out that they've been giving the kids cheese or taking them out for ice cream. Before you find yourself in the uncomfortable position of being forced to have an awkward and emotionally charged conversation with your childcare provider after the fact, here are 10 of the things you should make a point of explaining to her.
"Vegan" Includes Dairy Products – For those who don't adhere to a vegan diet, it's easy to confuse veganism and vegetarianism. In order to ensure that your childcare provider is able to maintain the dietary standards you've set, it's important to make sure that she understands what "vegan" means and what a vegan diet entails.
You're Willing to Leave Prepared Meals – Unless you've hired a nanny who has experience with veganism, it may be best to establish a system of preparing meals for your kids in advance. This is especially wise if there are non-vegans in your household, as it can be confusing to know what foods are appropriate for the kids when there are non-vegan foods in the house, too.
No Outside Food is Allowed – You may want to establish a policy of no outside food if you're dealing with an omnivore childcare provider, especially one that you aren't sure is able to understand the depth of your commitment to a vegan lifestyle. If you choose to allow outside food, you may want to stipulate that she never share any with your children or store it within their reach.
Your Child is Healthy and Happy – For non-vegans, it can be next to impossible to understand that kids who don't eat meat or dairy products are healthy, well-adjusted and happy. Explaining to your childcare provider that your kids are not being subjected to deprivation or neglect is key, especially if you sense that she feels otherwise.
You're Always Available to Answer Questions – When you make the choice to hire a non-vegan childcare provider, you should assume that she will have limited knowledge of your dietary system and will need help on occasion. Therefore, you should also make sure that she knows you're always available to answer any questions she may have.
Deliberate Violations are a Deal-Breaker – An innocent mistake is one thing, but you should be clear about letting your nanny know that any deliberate flouting of the rules will result in immediate termination. It's tempting for those with less restrictive diets to slip a bit of ice cream to their charges with the belief that their employers will never know,

so it's best to establish a clear boundary from the beginning.

About Food Allergies or Sensitivities – If your family's veganism has evolved naturally from the discovery of a dairy, egg or meat allergy, you must let your childcare provider know that information. There's a very real difference between breaking the rules and endangering a child who has food allergies, and you shouldn't assume that your nanny will avoid allergens simply because a vegan diet naturally precludes them.
Appropriate Meal Plans – It helps your non-vegan nanny to know what she's able to feed your kids if you give her a clear and simple meal plan each week. Even if the foods on your list are already prepared, let her know what the dishes contain and, more importantly, what they don't contain. It will help her learn more about your dietary system without being preachy or coming across as sanctimonious.
No Animal Products Allowed in Your Home – If you've made the decision to allow your nanny to bring in her own meals, it's reasonable to request that she abstain from bringing animal products, especially meat, into your house in order to eliminate the chance of your child accidentally eating these foods.
They're Welcome to Eat Food in Your Kitchen – If you're going to forbid your nanny from bringing in outside food, you should make it abundantly clear that she's welcome to anything in your kitchen. You can't expect her not to eat all day, and she's not likely to feel comfortable eating your food if you haven't made it clear that you're more than happy to share.
← How Nannies and Kids Can Adjust to a New School Year | The Parent's Role In Child Development Programs →
Comments are closed.
Search for nanny jobs
in your zipcode: