10 Tips on How to Help Kids Give Back to the Community
December 12, 2012

| in Nannies

By Erin McNeill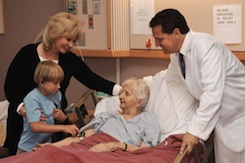 Helping children give back to the community teaches them compassion, initiative, and giving while assisting others in need. It's important to help children recognize that there are people in their own community who are less fortunate than themselves, and that they have the power to make a difference. Choosing a few activities each year to do alongside your child will instill a sense of pride and work ethic in you both!
Donate toys – Kids often get toys as gifts for their birthday or other holidays, and it's not unusual for those toys to get played with twice before getting tucked away and forgotten about. Sit down with your child, help him sort through his toys, and then pick out a few gently used ones to donate to your local shelter. Kids may feel like they have very little to give someone else, but by giving away some of their toys they will feel like they have made a difference in the life of another child.
Volunteer – By volunteering at a soup kitchen or local food pantry children will have the opportunity to interact with those that they are helping. Seeing and interacting with the

people who they are helping will help kids to recognize that they are making a difference in the lives of real people.

Pick up trash – Find a local park or playground and walk around and pick up trash in the area. Kids will gain a sense pride as they help care for their community by doing so.
Visit a nursing home – Senior citizens who are in nursing homes love to have visitors. Your child can do simple activities with the residents, such as coloring, reading them a book, telling them a story, or playing a simple game with them. Oftentimes, residents don't have family around them to visit, so a visit from your child will make their day!
Shovel a sidewalk or rake a yard – Help your child shovel or rake the yard of a neighbor who is having trouble doing so on his own.
Donate books – Literacy in children translates directly to success as adults. Have your child select a few new or used books to donate to a local literacy program. Having them write a short note inside the book will make it a more personal gift for both receiver and the giver.
Raise money for a local charity – Have a lemonade stand, an art show or a bake sale to raise money for a local charity. The kids can be in charge of making the goods, creating the signs, setting up, and running the event. If possible, they should make their donation in person.
Plant a tree – Many

local outdoor organizations put together an annual tree-planting event; all you have to do is show up on the day of the event and provide the planting power!

Collect goods for a shelter – Many shelters need basic goods such as food, personal hygiene items, diapers, formula, basic toys, towels and other necessities. Kids can collect items from family and neighbors and donate it to your local shelter.
Cook a meal for a family in need – Most kids love to cook! Have the kids assist you in cooking a meal for a family in your area that's having a rough time.
Whatever you choose to do, make sure you do it along side your child. By participating in these activities with your child you will create a moment of bonding while making an impact on your community together.
← What Nannies Need to Know About Allergies | When Is It Time To Let Your Nanny Go? →
One Response to 10 Tips on How to Help Kids Give Back to the Community
Search for nanny jobs
in your zipcode: