30 Blog Posts with Tips on Nanny Background Checks
November 14, 2012

| in Nannies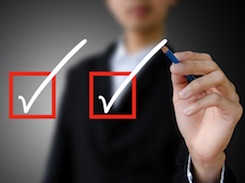 Trusting a relative stranger with the care of the most precious, vulnerable members of your family can be a terrifying prospect, even when the nanny candidate you're considering seems well-qualified, competent and charming. As the Internet continues to simplify the process of obtaining background information about a job applicant, the pre-employment background check has become par for the course, even for home-based employers. These 30 blog entries discuss every aspect of pre-employment background screening, from the importance of conducting one to the ethical and legal implications of doing so.
Criminal Records Check
Determining whether or not a nanny has a criminal history is often one of the first things parents wish to accomplish after finding a promising candidate. These five blogs discuss pre-employment criminal records searches, pointing out the pros and cons of conducting them.
Sex Offender Registry Check
The sex offender registry was created in order to help parents make more informed decisions about the people they allow to spend time with their children, but has come under fire for being too harsh. This has created unnecessary problems within the community, and has been vague enough that concerned parents are unable to make much sense of it, instead assuming that everyone on it is a monster. These five blogs discuss the possibility of false information regarding sex offender registries, the best way to use them for pre-employment screening, and what all of the related terms mean.
Child Abuse Registry Check
While there is no national child abuse registry, almost all states maintain some semblance of a registry for those that have been suspected or convicted of abuse or willful neglect of a child. In these five blog entries, you'll find information about how the legal system struggles with a child abuse registry, and how to access the information they contain as part of a pre-employment verification process.
Driving Record Check
Whether your nanny will be responsible for transporting your children and allowed use of a family vehicle for work-related errands or not, it's a good idea to check her driving record. Even if she won't be regularly transporting your children in a vehicle, the contents of that record can provide insight regarding her respect for traffic laws, level of caution and good judgment.
Keeping Your Background Check Legal
In some cases, the most compelling information a background check turns up is actually protected under the laws governing fair hiring practices or other employment laws. These five blogs tackle the sometimes-sticky realm of background check legality in relation to hiring practices.
How to Run Background Checks
After determining what a background check entails, how many different types there are, and what is or is not legal, most parents still opt to perform some type of background check on a nanny candidate before hiring her. These five blogs outline the best practices for doing so and offer advice on how to complete the task.
← How to Create a Gift Cupboard for Stress-free Gift Giving | Nannies: Why it May Matter Who Your Friends Are →
Comments are closed.
Search for nanny jobs
in your zipcode: