How to Help Your Kids Adjust to a New Caregiver
March 19, 2013

| in Nannies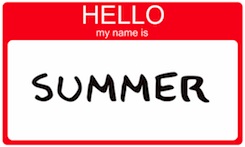 All good things must come to an end, whether it's your relationship with a wonderful nanny who's ready to move on or your stint at home after having kids. When it's time to get your children acclimated to a new caregiver, there are a few things you can do to help the transition go more smoothly, so that there is a minimal amount of stress or tears. Prepare in Advance Sometimes the unexpected happens, and you may not have time to give your brood advanced warning about the impending changing of the childcare guard. If you're fortunate enough to know in advance that there are changes afoot, however, it's a good idea to take advantage of that good fortune by gradually acclimating your kids to the idea of a new childcare provider. Talk about the fact that your nanny is going to be moving on and explain that they'll be meeting a new one or that you'll be returning to work and they'll stay with a nanny. Whatever your individual circumstances are, be open and honest with your kids as early as you are comfortable with so that they have plenty of time to ask questions
and get used to the idea of a major change in their lives. Schedule for a Transition Buffer If at all possible, scheduling a buffer day can have a huge impact on your kids' reception of a new nanny. Let the old nanny spend a day training the new one and helping the kids to become accustomed to her, or spend time with your kids and a nanny before she starts working so they're able to get to know one another in an environment that's familiar and comfortable to your kids. Be Open With the New Caregiver Your new caregiver needs to be well-equipped with information to make the transition of childcare a successful one, so make sure that you're open and honest with her. If your kids were particularly fond of the old nanny and you suspect there will be some acting out as a result of her leaving, discuss the matter. Talk about your kids' individual quirks, habits and needs before she's left alone to field them for herself. Making the effort to give your new caregiver all the information she needs to meet your kids' physical and emotional needs in the first days of their acquaintance can dramatically improve their opinion of her. Remember, many kids will regard a new caregiver with a sort of wary suspicion until they're used to her. When your nanny understands your kids as individuals, she can better combat that suspicion and begin building the foundation of trust. Make Special Efforts for Transitioning to Out-of-Home Care It is one thing to bring a private nanny into the home your children are already intimately familiar with and comfortable in; it's another altogether to introduce them to a new caregiver in a completely foreign setting. If you're transitioning from an in-home childcare provider or a life as a stay-at-home mom to one that includes daycare for your children, it's a good idea to spend the first day with them so that they can explore with the comforting knowledge of your close proximity. Visit a new center a few times together, talk about the fact that they'll be spending the day there while you work and give them the opportunity to ask all the questions they need to in order to feel comfortable with the idea. Coordinate With the Caregiver Planning a full day or two of activities by coordinating with your caregiver helps your kids know what to expect and feel confident in the security of their new routine. When you can generate excitement by talking about the trip to the zoo they'll take with the new nanny or the arts and crafts project they'll be working on
at daycare, they'll have something to look forward to and may feel more confident when those things actually come to pass. Working in conjunction with your new caregiver to create the most positive transition possible is an essential part of helping your kids form a bond with their new nanny or babysitter. Express Enthusiasm When your kids see that you're excited about this new development and eager about embarking on a new adventure, they're more likely to follow suit. Make sure that you talk about the upcoming change in your childcare routine with optimism, even if you're actually depressed about leaving them with a caregiver or sad about the loss of your previous one. Young children probably won't understand the subtlety of mixed emotions, and will instead pick up on your negative feelings and regard the upcoming change with fear. Be Patient Regardless of how well you prepare or how much energy is directed at helping your kids make a smooth move from one childcare provider to another, they're almost certainly going to feel some fear or sadness. Keep up the positive attitude with your kids, and do your best to be patient until they fully adjust. Some kids are more resistant to change than others, and full acceptance of the new normal for your child will only happen when she's ready to accept the arrangement.
← 7 Activities to Help Kids Understand Passover | 10 Activities that Boost Your Pre-School Aged Child's Math Skills →
Comments are closed.
Search for nanny jobs
in your zipcode: