How To Negotiate A Nanny Salary
December 17, 2012

| in Nannies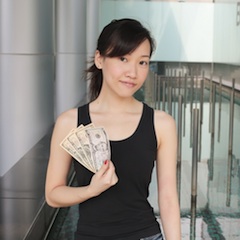 Negotiating an hourly rate and benefits package is one of the hardest parts of looking for a nanny job. Most nannies aren't comfortable talking about money and often don't know what to say when a parent questions the rate they're asking for. Here are some tips that will get you moving in the right direction when it comes to getting the compensation package you want.
Understand how taxes affect what you'll make and what your employer will pay. Nanny taxes are confusing to many nannies and employers, but it's important that you understand the basics, because taxes impact how much you'll bring home each week and how much your employer will have to pay on top of your wages. Before you start negotiating your hourly rate, visit a nanny tax calculator so that you know what you need to make in gross wages (or wages before taxes) to bring home the amount you would like. Remember that although a typical nanny's work week is 45 to 60 hours, legally the overtime rate kicks in after 40 hours for live-out nannies, so you'll need to adjust your rate accordingly. For live-in nannies, the overtime laws vary by state.
Your employers will have to pay about 10% in employer taxes (Social Security, Medicare and unemployment insurance) on top of what they pay you. That means that if they pay you $15 an hour, they'll actually have to pay $16.50 total. Keep this in mind when you're talking with parents and make sure you're both using the same baseline when deciding on a wage.
Know what you want. Before you can begin to negotiate (or even find good family matches) you must have a detailed idea of what you'd like your wage and benefits package to look like. Make sure you know what you want to make per hour, what you need to make for any overtime you work and any benefits you need to have provided as part of your compensation package. Once you know your desired earning wage and benefits, stick to your guns during a negotiation and
walk away if necessary. If you take a job that doesn't provide for your basic needs, you won't stay in it very long. That said, however, if you're in negotiations with a family that you truly click with and think you'll be happy with, but they're just shy of your salary requirements, sometimes making a small adjustment to your requirements in the name of happiness is worth doing.
Know what you have to offer. Potential employers are looking to you to let them know why you're asking for what you're asking. They assume you'll provide great childcare, but it's your job to tell them what else you'll provide. Do you have a special way with children? Do you have a certain approach to challenging behaviors that is especially helpful? Are you willing to pitch-in and do more than the typical nanny would? Do you have any special skills, like a second language, a tutoring background or chef skills? Will your personality mesh well with their family? Are you super excited to be working with twins? When you have a good sense of what you bring to the table, you're in a better position to negotiate a fair wage and benefits package.
Know what others are making in your area. Most parents base what they're paying their nanny on what other families in their area are paying for nanny care. Contact area nanny placement agencies, scan family profiles on online jobs sites, and scroll through local classifieds to find out the going rate in your area. Make sure you compare yourself with nannies who have similar experience and education and with jobs that are similar to the type you're looking for. Once you know what others are making, you can decide on a reasonable wage range for yourself.
Be confident that you deserve what you're asking for. Asking for what you want with confidence will go a long way in the negotiation process. Once you've done your homework and decided on what you want, don't feel bad for asking for it. Being a nanny is hard work and you deserve to make a living wage.
Be willing to find a creative compromise. It's key to know your bottom-line, or the hourly rate and required benefits that you absolutely must have. Above that, there are lots of different ways to get what you need at a price the family is comfortable with. Are you willing to earn less if they pay for your health insurance or car repairs? Are you willing to be flexible with your work schedule to stay within their budget? Are you willing to start at a slightly lower rate if they guarantee a raise in six months? Are they willing to pay you a higher rate if you do the weekly grocery shopping or other family errands? Have an honest conversation about how you can work together to agree on a package that works for both of you.
Negotiating can be uncomfortable, but getting a salary and benefits package you're happy with is worth the effort. In the long run, you'll be happier in a position and more likely to stay long-term if you're happy with what you're bringing home each week.
← 10 Tips for Helping Your Child Get to Sleep | Teaching Kids How to Cook →
Comments are closed.
Search for nanny jobs
in your zipcode: