The Importance of Professional Development for Nannies
December 20, 2012

| in Nannies

By Erin McNeill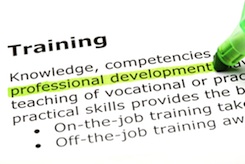 Professional development is a term that is thrown around in every workplace in the world. What is professional development? Professional development is anything that contributes to your education in regards to your career; it can help you in the job you are in or to advance your career. It provides a way for you to gain or sharpen your skills and your knowledge. Professional development can be obtained from many places including college classes, conferences and workshops, online classes, reading articles and books and networking events. Professional development can happen in both formal and informal settings. Ongoing professional development will help you be the best worker that you can be, but why is it so important for nannies?
It helps you to:
Know the industry standards and rights of nannies – When you participate in educational workshops and classes you will know what the current industry standards are, such as the federal mileage reimbursement rate, the going rates for nannies in your area, what your tax obligations are, what the legal requirements of a nanny family are, and what employment benefits are standard industry offerings. You will also have this knowledge to back-up your requests
when it comes time for contract negotiation.
Provide quality care and education to your charges – You care for some of the most precious things on earth and it's only normal to want to give them your very best. It's important to be informed of the educational standards at every age level so that you can help your charges be the very best that they can be. It's also your job to provide learning and growth opportunities to your charges and when you are up to date on your own education it can only help you bring new and exciting activities to the kids in your care. As your children grow the added responsibilities of homework will enter your lives and it's key that you be able to effectively help them with their schoolwork.
Keep up to date on current research – Staying informed on all of the latest research and studies going on will allow you to know what is best for the children in your care when it comes to development, education, and play. You'll know if your charges are watching too much media, playing on too many electronic devices, getting enough sleep at night, and if you are providing them with a safe learning and playing environment. Keeping current allows you to provide childcare according to best practices.
Develop a niche – Those nannies that choose to specialize in newborn care, multiples, or sleep training should always know what the latest trends and standards are in their specialty area. By attending professional development trainings you will gain the knowledge to keep yourself competitive in your field of expertise.
Stand out when looking for a new job – Your professional development background will ensure that you earn the money that you are worth. It will also show a family that you are serious about your career and the childcare industry as a whole and that you are committed to furthering your education and expertise in your chosen field.
There are many places that nannies can go to for professional development workshops and classes. Check around in your city, if you nanny in a larger city or area you'll likely find an already established nanny support group that will have events for you to attend. Search online for nanny groups that you can join, they generally have safe, private areas for people to collectively bounce ideas around and bring new ideas to the table. Listen to podcasts, there are a few out there that offer short sessions on specific topics for nannies. Attend a class at a local college, sign up for a community education session, or register for an online session that focuses on childcare, interview skills, or something more specific such as working with children who have special needs.
All of these options will help increase your knowledge on childcare and working in the home as well as help contribute to you being the best nanny you can be!
← 10 New Year's Activities for Kids | How to Talk To Your Nanny Boss About Job Creep →
Comments are closed.
Search for nanny jobs
in your zipcode: