10 Signs Your Nanny Needs a Vacation
October 16, 2012

| in Nannies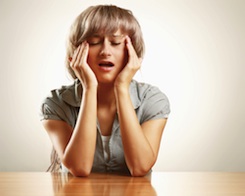 Everyone needs a vacation from time to time, including your nanny. When the chipper, eager girl you hired starts to become an irritable, withdrawn employee that has little interest in her job, it's possible that her suddenly declining performance is a direct result of impending burnout. While making alternate childcare arrangements can be an inconvenience, it's a much better solution than managing the hiring and training process that would accompany your current, beloved nanny's departure. These 10 signs might indicate that it's time to suggest that your nanny take some of her paid vacation time, and enjoy a break from the rigors of childcare.
Lowered Enthusiasm – If your nanny began her post as an enthusiastic, engaged caregiver that looked forward to activities with your children and now seems somewhat apathetic, not showing an interest in activities or planning outings, she may be struggling with depression resulting from burnout.
Less Patience – A burnt-out nanny's patience is usually quite thin, and is often accompanied by a much shorter temper than was characteristic of her when she first began working for you. If your nanny seems to have a dramatically

lowered threshold for impatience or anger, it's a sure sign that she needs a break.

Changes in Mood or Behavior – Any significant changes in mood or behavior are red flags that all is not well with your nanny emotionally. Paying close attention to any changes in demeanor can help you gauge where your nanny stands and whether or not she needs to get away for a short break.
Decreased Energy – One of the leading causes of burnout is simple exhaustion, something that's easy for your nanny to feel when she's under the constant pressure of managing a household and caring for children that are not her own. A once-energetic nanny that's now lethargic or seems to be constantly tired may need permission to take a few of her vacation days.
Her Workload Has Increased Significantly – If you've recently had another child or have allowed job creep to bog down your nanny's workday with chores that aren't related to childcare, it's a good idea to let her take a paid vacation at your earliest convenience to make up for the increase in workload.
Frequent Illnesses – Nannies that seem to be frequently ill or are increasingly feeling a bit under the weather almost certainly need to take a short break in order to rebuild their stamina and peace of mind. Keep in mind that a nanny who feels poorly may not be as attentive as she could be, especially if her illnesses are connected to depression resulting from job burnout.
Less Attention to Detail – When your nanny begins paying less attention to small details and starts regarding certain aspects of her job with apathy, it's a sure sign that she's beginning to burn out and needs a brief escape.
Attendance Problems – Burnt out nannies may be late more frequently than normal, call out more than they ordinarily would, or exhibit some questionable attendance. If your nanny has always been dependable and is just beginning to show signs of attendance trouble, it could be a sign that she simply needs a break.
Procrastination and Poor Performance – Putting off tasks, shirking responsibilities and generally performing poorly are all grounds for termination in most cases, but they're also things you should carefully consider when it's completely out of character for your nanny. Dramatic changes in behavior are often indicators of depression, and could very well signal a deep need for vacation time.
She Seems Overly Emotional – A nanny who bursts into tears when she's questioned or is easily upset may just be more emotional than is normal for her because she's stressed, exhausted and overworked. In most cases, a short vacation will do wonders for her mood and performance when she returns.
While it's a popular practice to take nannies on family vacations to provide childcare, it's important to remember that your vacation is not her vacation. She's still working, often under more stressful conditions than she's accustomed to because your kids' routine is disrupted. Regardless of how much money you contribute while your nanny's on vacation with you, if you expect her to care for your children while you're traveling it's important to remember she is working and is still entitled to her own vacation later, provided that vacation is part of her benefits package as agreed upon in the nanny contract.
← How to Write a Cover Letter for a Nanny Job | 10 Ways to Stop a Child from Cursing →
Comments are closed.
Search for nanny jobs
in your zipcode: