10 Things Nannies Should Do Every Year to Be Proactive In Their Careers
September 25, 2012

| in Nannies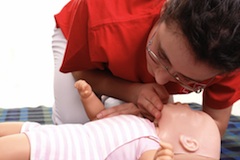 No nanny wants a job to end on short notice, however sometimes nothing can be done to prevent it from happening. In addition to having to quickly wind down emotionally from a position, jobs that end abruptly can leave a nanny strapped for cash. Whether you're a seasoned nanny or just starting out in the field, there are 10 things you can do each year to help keep your nanny career on track.
Update your resume. When the time comes and you need to update to your resume, gathering all of the necessary information can be a huge hassle. Keeping your resume current can save you tons of time and energy, plus when you do it's readily available in a moment's notice.
Get a new photo. Most agencies and online nanny recruiting cites encourage, if not require, nanny candidates to have a headshot to include in the information they present to families. Have a friend take a photo of you outdoors (the natural background will not only look nice – it won't be distracting) or invest in a professional headshot from a portrait photographer. Presenting yourself as a polished professional can make a real difference in the job search.
Update your CPR and first aid training. While your formal certification may not expire every year, it's a good idea to take an annual review course online or in-person. If you received an instruction book when you took the class, reviewing that is a good idea too.
Ask for a written review. An annual performance review is

typical

in most nanny positions. Asking for a written evaluation to accompany an annual review is a good policy. Not only are you able to document your job performance, should a job end on a sour note or the

parents are unable to provide you

with a written reference in a timely manner, written reviews can be included in your portfolio as proof of employment and a job well done.

Get a flu vaccine. While certainly not required by all employers, some will request that you get a seasonal flu vaccine to protect yourself and the children from the season's anticipated strain. While you'll need to decide for yourself if you'll get one, The Center for Disease control recommends that caregivers of children aged younger than 5 years get a seasonal flu vaccine.
Continuing education. Whether you attend a nanny conference, enroll in continuing education courses at your local community college, or take an on-line child development course, staying current on childcare trends and best practices is essential for every nanny.
Send a holiday card to former families. You never know when you'll need to call on a former family as a reference or be in the area and want to stop by to say hello. Sending an annual

holiday card is a great way to keep in touch with families that you worked with several years ago and don't regularly keep in contact with. Even if they don't remember much about your time together, they'll surely be able to tell whoever calls for a reference that you faithfully send a card each year.

Reach out to your placement agency. If you secured your position through a placement agency, it's always a good gesture to send a note and update them on your status. Even a simple "three years later, I'm still here and loving my job – thanks again for the referral" keeps you at the forefront of an agents' mind, should the need arise for you to utilize their services again.
Get a TB test. Most agencies and families require their nannies to be in good health and, as such, require a TB test prior to placement. Since young children are at a high risk of contracting tuberculosis if they are exposed to the bacteria that causes it, child care workers are typically encouraged to be tested every one to two years.
Check the IRS mileage reimbursement rate. If you are using your vehicle to transport the children in your care, you should be reimbursed for the travel you do while on duty. The IRS mileage reimbursement rate is updated each year and reflects the standard business reimbursement rate per mile.
Being proactive can lessen any downtime should you find yourself out of job and in search of a new one. Prepared nannies who are ready to tackle a job search as soon as necessary can increase their employment options as they are able to start their job search sooner.
← 10 Things Nannies Can Do To Give Working Parents More Family Time | Discussing Safety Concerns with Your Nanny Employer →
Comments are closed.
Search for nanny jobs
in your zipcode: