Discussing Safety Concerns with Your Nanny Employer
September 27, 2012

| in Nannies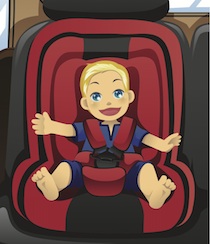 No nanny enjoys having to discuss tough topics with her employer. However, whether it's discussing the dangers of their toddler riding in a booster seat (even if it's "just on the weekends") to reminding them of the inherent risk that comes along with learning to ride a bicycle (never mind without wearing a helmet), nannies are often forced to confront their bosses with safety concerns. For nannies there is a fine line between being a child's advocate and being subordinate to her employers. Every nanny has a personal safety line that she simply isn't willing to cross, regardless of who instructs her to do so. When something her employer does approaches that line, intentionally or not, it's enough to send a shudder down any nanny's spine. While addressing the issue directly in
a professional manner is typically the most clear cut way to bring up an issue, for some nannies that type of voluntary confrontation is just too much. For others, they're well aware that their employer best receives and processes information when seeing it, so they know that sending an email or leaving out literature is the most effective way to bring up tough topics. So
besides simply putting her concerns out there, how can a nanny respectfully broach safety concerns with her boss without coming across as judgmental or insulting? 1. Ask a question. "Oh, does that harness look right to you?" "Have you heard that they recently changed the recommendations on rear-facing seats?" "Did the pediatrician mention anything about giving cough medication to children under two?" "Do you think we should ask the doctor about that?" Asking a question opens the door to discussion. "You know, now that I've asked you that I recall reading that the harness should be at or below a child's shoulders when rear-facing. Let me check the seat manual." 2. Make a mention. Casually bringing up a topic in discussion is another way to open the door to conversation and request that action be taken. "I saw on the news this morning that a child fell out of a second story window and died. Now is probably a good time to add window guards upstairs." "I got an alert that drop-side cribs were recalled. I'll check to see if ours was part of the recall." "A nanny friend mentioned that her charge was injured when riding her bike barefoot. We should definitely make sure Susie always has her sneakers on when riding." 3. Send an email link. For employers who are used to receiving important messages digitally, sending an email may be an effective way to bring up a safety concern. "Hey, I came across this video that showed how infants should look when fastened into the car seats properly. Check out the chest clips." "Did you see the new recommendations by the American Academy of Pediatrics on treating fevers? See attached." "Wow, one child dies every week during the summer months in a kiddie pool. Don't we have that one in the video? We should be extra cautious, for sure." 4. Leave out literature. Leave a copy of your favorite magazine article or medical study that addresses the topic you want to bring up out and open to the page. Write on a sticky note, "Interesting read" and place it on the page. Follow up the next day by asking if she had a chance to read it. 5. Be a role model. Let the parents see you taking proper safety precautions and hear you talking through why you have specific rules or do things a specific way. Upholding the highest safety standards naturally lends itself to employers comparing the way you both do certain things. While nannies should never put the children in a position to communicate safety messages to their parents, they should be prepared for that to happen. If you have an outspoken youngster, chances are she's going to tell her parents her car seat buckle isn't tight enough or that her nanny says, "We always have to wear our helmets when riding our bicycle." In an ideal world, nannies and parents would feel comfortable freely offering constructive criticism to each other, but in reality that's simply not the case. Parents and nannies should strive to have open and honest communication and to discuss any issues or concerns as they come up. For those who get weak in the knees at the thought of having to confront an employer, utilizing a communication technique to bring up the topic allows them to get the job done in a non confrontational way.
← 10 Things Nannies Should Do Every Year to Be Proactive In Their Careers | 10 Ways Nannies Can Prepare for Emergencies →
Comments are closed.
Search for nanny jobs
in your zipcode: