10 Water Games for Kids of All Ages
July 28, 2013

| in Nannies

By Erin McNeill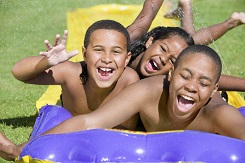 The summer is warming up quickly, and you may not always have access to a beach or pool to beat the heat, so here are a few games you can do in your own backyard that will help the kids cool off on a hot summer day. Make sure that you always have water available for the kids to drink, as you want the kids to stay well hydrated while playing outside. Some of them are variations on old favorites, while others are wonderful new ideas for you to try out!
Drip, Drip, Splash – Drip, Drip, Splash is played much like the age-old favorite of Duck, Duck, Goose! Everyone sits in a circle and the person who is "it" gets up from their space and starts around the circle with a cup of water. For each "drip" they'll sprinkle a small amount of water on that person's head. When they decide to "splash" they'll dump the rest of the cup onto that person's head. The splashed participant gets up and chases "it" around the circle and tries to beat him back to his original spot. If "it" is tagged, they remain "it" for another round. If "it" is not tagged, the person they splashed is now "it" and the game begins again!
Relay Races – Break the kids up into two teams, making them as even as you can. Kids will take turns with different tasks, giving each child a chance at each activity. You can do races with sponges, such as running a water soaked sponge from one bucket to another and then wringing it out, and the first team to fill their bucket wins! You can also pass a sponge over one person's head and under the next person's legs, and the first team to complete this with everyone on their team is the winner. Or, soak a t-shirt large enough to fit everyone on the team (have one for each team) and have each member put it on and then take it off again; when they are done, have them pass it to the person behind them. Have your kids come

up with other relays involving water to stay cool!

Slip and Slide with Style – Set up a slip and slide and have the kids take turns going down the chute with style! Have them strike a pose while sliding, let

other participants judge them and give out awards for style!

Ball Blast – Create a circle using ropes and place balls in the middle of the circle. Give your child the hose (if you have multiple hoses go ahead and hook them all up) and time them to see how long it takes for them to spray all of the balls out of the circle. Other participants can benefit from the spray of the hose until it is their turn!
Beach Towel Volleyball – You need pairs for this activity, each pair needs a beach towel and you need one water balloon for each round. Have the kids hold the towel so it is stretched out between them and then place the balloon in the middle of their towel. Then challenge them to launch the water balloon onto the towel of the next set of kids. Points are awarded for every successful toss and catch!
Frozen T-shirt Relay – Have each child give you a t-shirt, but don't let them know what it's for. Place it in a Ziploc baggie after soaking it well with water, and let it freeze for several hours. When it's time to play give each kid the baggie with their shirt in it – they'll be shocked that your froze their clothing! Let them know that the first one to unfreeze their t-shirt from the ice wins the game, but they can only use their own body heat to get the job done!
Back to Back – You'll need several water balloons for each pair of participants with this game. Have them stand back-to-back and place a water balloon between them. They'll then need to move together to get the balloon into the bucket. See who can fill the bucket first or who can get the most balloons into the bucket in a set amount of time.
Sponge Tag – Soak a sponge in water and select someone to be "it." Whoever is "it" will get the sponge and try to tag people with it. When they tag someone they are now "it" and must go re-soak the sponge!
Beach Bowling – Set up sand castle pins, or use buckets or whatever toys you have available. Soak a sponge ball in water and start bowling. You could also do a variation of this in your backyard by filling bottles with water and using a water balloon.
Water Balloon Baseball – Using a plastic bat and water balloons, set up batting practice in your backyard. The kids can either pitch to themselves or you can pitch to them. Have them earn points for successfully bursting balloons with the bat (they'll have a blast getting soaked in the process!). You can take it a step further and run bases (one base for each broken balloon) and missing or not breaking a balloon can count as a strike.
Remember to always play the games in shady areas, as to limit sun exposure and the risk of heat related illness. It's also important to remember to pick up broken balloons as they are choking hazards for young children and the animals that visit your yard.
What other variations of these games can you and your children come up with?
← 10 Water Play Activities for Children of All Ages | How to Create a Memorable Art Museum Visit for Kids →
Comments are closed.
Search for nanny jobs
in your zipcode: