10 Water Play Activities for Children of All Ages
July 24, 2013

| in Nannies

By Erin McNeill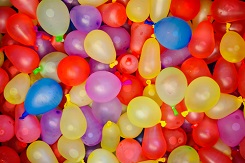 The excitement over the dog days of summer, while highly anticipated during the school year, has a tendency to wane as the days drag on. Instead of listening to, "I'm bored!" over and over again, get the kids outside and active. These 10 water activities will help your kids beat the heat and keep them entertained for hours.
Water relays – Have the kids invite their friends over to participate in water games. Break into two teams and set-up various relays for them, such as a water balloon toss, sponge pass, filling up buckets with cups of water and putting on clothing that has been dunked in the pool! Mix it up and make it as crazy as you can!
Summer sponge bombs – Check out the tutorial on WhipperBerry for making your own sponge bombs. Once your sponges are ready, soak up some water and start a battle! You could play tag with them, have a "snowball" fight or even play dodge ball together. The possibilities are endless, so use your imagination!
Water balloon catapult – The ultimate in summer fun is easily the water balloon catapult! An adult needs to help with the construction of the catapult, and don't be surprised if you find yourself wanting to join in on the fun! Once you've built one or two, set-up a game of war and attack each other! When you are hit with a balloon you become injured and must run around on one leg. Other ideas include launching balloons at targets and distance competitions.
Create a water table – Playing in water is a great sensory activity for kids of all ages because water is calming (even if the play isn't!) and relaxing to the mind and body. When creating your water table, consider adding a theme, throwing in whatever you can find (buckets, cups, scoops) and adding a few drops of food coloring to make it different.
Pool noodle waterfall – Pool noodles are versatile, even outside of the pool. You can create a pool noodle waterfall by plugging one end of the noodle (tape it with duct tape), poking holes on one side of the noodle and inserting a garden hose into the open end. Younger kids will enjoy the waterfall effect more so than a traditional sprinkler as it's a bit gentler and much less intimidating!
Soap boat races – This is a fun, simple and clean activity for kids this summer from I Heart Naptime. All you need are a few plastic gutters and a bar or two of soap. You can also make sails for the boats if you want to get really fancy! Assemble the sails on your boats, set up the gutters in your backyard on a slope and place the hose on the gutters so you get water flow. When you are ready, place your boats in the gutters and see whose soap boat goes the fastest!
Car wash – A kiddie car wash is the perfect way to keep bikes, ride-on toys and even your kids clean this summer! This is a more involved project that requires supplies from the hardware store, cutting PVC pipe and assembly, but your kids can help put it all together. It's sure to be a hit this summer!
Limbo contest – Use your hose to start a limbo contest! Spray the water and

have kids do the limbo just like you would with a stick! How low can you go?

Doll baths – Set up a baby tub outside and give your children waterproof baby dolls to bathe with soap and sponges. What else can they find to wash? Your backyard toys will be sparkling after this fun activity!
Extreme sprinkler– Home Spun Threads has an excellent guide on making your own extreme sprinkler this summer! A few pieces of PVC pipe and a few tools to get the job done, plus a bit of time, will equal tons of fun in your own backyard this summer!
Have your children help you assemble and set-up the activities, that way they can do it on their own the next time they'd like to do it. What other variations can they come up with? Your children are sure to enjoy the activities, and the variations on each activity are endless!
← 10 Summer Sensory Activities for Toddlers | 10 Water Games for Kids of All Ages →
Comments are closed.
Search for nanny jobs
in your zipcode: