How to Market Your Nanny Skills Effectively
December 16, 2013

| in Nannies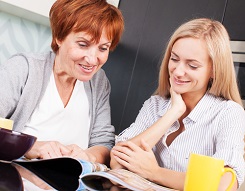 Now that you've gotten some experience taking care of children, taken some enrichment classes to help you best do your job and passed your first aid and CPR certifications, you're ready to find the position of your dreams. But how do you share with the world of prospective parent employers just how perfect you'd be for their family? Use these tips to learn how to best market your nanny skills. Put Your Best Foot Forward (and not in your mouth) In our world today, most of us have a public persona, whether we think of it as such or not. Take a look at your social media accounts and any comments or reviews you've publicly posted with your name attached. Now view these from a prospective parent's eyes and be honest about whether it really represents you at your best. You certainly have the right to do as you like and say what you feel, but in doing so you're also making an impression that will be hard to undo – and when it's a first impression, you might not get the opportunity to show the other sides of who you are. Even the best resume will be in the recycle bin before you know it if a quick Google search reveals a string of late night party girl shots, profanity, strongly worded political or religious statements or nasty Twitter feuds. Again, you absolutely have the right to act as you please – but parents looking for someone to guide and influence their children also have the right to nix anyone who suggests
a lack of decorum or judgment. It should be obvious that your Facebook or Twitter accounts should not include negative comments about prior employers, parents or the children who were in your care. Joking statements such as "Gah! These kids are driving me to drink!" or "but why, but why, but why, why, why, why… this is my life, smh #nannying" may be entertaining to your followers, but they probably won't be as amusing to any current or prospective employers. Delete these and consider how it might feel if someone was blasting exasperated, annoyed or negative
things about you to the world (then multiply it by 50, since parents are generally pretty sensitive about their little ones). Show What You've Got You worked hard to build up your credentials. You put in the hours in the classroom, sweated through practical exams on handling emergency medical situations, spent years learning the ins and outs of handling sensitive little people and making them feel wonderful, safe and loved – now it's time to showcase this so that prospective employers will see with a quick glance that their search for the perfect Poppins is over. When listing your educational achievements, a "Bachelor of Science from University of Illinois" is not going to sound as enticing or catch a parent's eye as quickly as "BS in Human Development and Family Studies with a concentration in Child and Adolescent Development". If you
have a degree, but it wasn't necessarily in an Early Childhood or another kid-centered area, look through your list of classes and electives. A psychology degree might have included classes in "childhood socialization and development". A liberal arts degree might have included a "children's literature" or "creative dance for children" course. Listing your degree (or "Studied at ____ College/University" if you did not complete it or are in the process), with "additional electives in ____" demonstrates that you had a passion or special interest for the subject that might be shared with their children. Many parents hope their child will be exposed to or learn about subjects such as art, music, nature and world culture, so a nanny who showed a love for those things would be a plus. Connecting with a parent about a common interest ("Hey – I studied theatre, too!") or sparking their imagination about what you can offer to their little ones will make you stand out from other candidates and possibly even earn a better salary. Resumes and ePortfolio A classic, well written resume is a necessary part of your job search. Be sure to include any emergency medical training you have and additional character references if your nanny background is not heavy to help give a sense of peace of mind. Choose your personal references not only for who will give glowing reports but also who is perceived as being honest, upstanding and in line with the job. Listing teachers, doctors, police officers, daycare operators, art or dance studio owners, etc. will leave an impression, even if they never bother to pick up the phone. Consider making yourself stand out by creating an ePortfolio. This will have the traditional resume as an opener or cover letter, but also lets you share more about yourself in a creative way(and shows that you're tech savvy, which will impress some parents). Multimedia ePortfolios can include art projects you've done with former clients, things you can share from places you've traveled, a page of your favorite children's book covers for parents to see at a glance and even some world music clips that are your favorites to dance to with preschoolers. (If you use clips or photos of kids, clearly mark "with permission by _____".) Because it's in e-form, it doesn't feel overwhelming since they can click or skip, and the ability to forward it right over online gives a sense of a confident, proactive, take charge spirit.
← Should Nannies Drink With Their Bosses | Financial Tips for Being Able to Retire as a Nanny →
Comments are closed.
Search for nanny jobs
in your zipcode: