How to Offer Criticism So It Sounds Positive
January 30, 2013

| in Nannies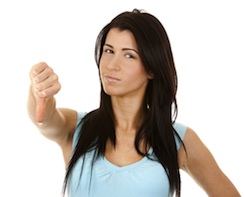 There will be times as both a nanny employer and a parent that you will need to offer constructive criticism to either your nanny or your child for guidance. Making sure that your criticism is well-received and accepted as something that is being shared with good intentions often depends upon your ability to make it sound positive, rather than having it come across as an assault on someone's character or decisions.
Don't Get Personal
There's a difference between offering tips for better performance or making better decisions in the future and causing people to feel as if you're criticizing them on a personal level. Remember that you're addressing a specific behavior or incident, not the person behind it. When you avoid making statements like "You always…" or "You never…" as you explain your stance, you're also avoiding accusations that could put your nanny on the defensive. Make sure that you're not attacking or belittling her as a person when you bring your concerns to the table.
Use the "Sandwich" Technique
By preceding an observation about a poor choice with a compliment and immediately following constructive criticism with another compliment you can help the criticism to sting less than it
would if you simply delivered it with no buffer. This is referred to as the "sandwich" technique, and is regarded in Human Resources circles as one of the most effective methods of sharing a critique in the professional world.
Keep the Purpose of Your Criticism in Mind
It's easy to meander off the path of your chosen subject, especially if you're under a lot of stress or are concerned about several aspects of your nanny's behavior. To make sure that your criticism is accepted as it's intended, to offer suggestions for better performance and professional guidance, it's best to stick to the issue at hand. Resist the urge to make several negative points, as it can make your nanny feel as if she's being assaulted with a barrage of complaints about her work performance.
Don't Approach the Situation When You're Angry
When you're particularly upset about a situation with your nanny, you can easily lose your temper if you approach it while you're still angry. Allowing yourself time to cool down and think about the problem objectively will help you make more coherent, cogent points about what needs to be changed and ensure that they don't come across as offensive or make her feel as if her character is being assailed. When you're calm and offer your criticism in a collected, composed manner, you're also reducing the likelihood of a dramatic scene.
Feedback Versus Instruction
If you're only slightly concerned about something and want to make sure that your nanny understands that you aren't wild about the way she handles a specific task or responsibility, it's best to tell her so by offering constructive feedback. When you approach her with strong instructions about how these things must be handled, you run the risk of making her feel like she's inadequate as an employee, even if you're satisfied with her work overall.
You Don't Have to Be Vague to Be Gentle
Being gentle means that you're not approaching the situation by attacking your nanny or being mean-spirited as you give criticism, not that you address your concerns with vague language. If you don't directly address the problem at hand, the conversation can feel more like a passive-aggressive means of controlling her than genuine feedback and legitimate concerns.
While a conversation about mild concerns and gentle criticism should be managed with a light hand, there's nothing wrong with adjusting your approach accordingly if the problem you're dealing with is a serious one. Making sure that your criticism comes across as a gentle direction is important when the issue is a relatively minor one, but things that put your child's safety at risk or directly challenge your parenting philosophies may not require such a delicate approach.
← 10 Tips on Coping with Nanny Burnout | 8 Items to Include in Your Nanny Portfolio →
Comments are closed.
Search for nanny jobs
in your zipcode: