Take the Pain Out of Homework: Strategies to Engage Your Child
January 8, 2014

| in Nannies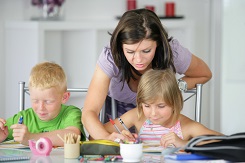 Let's face it: As a child and adolescent, you probably didn't look forward to completing your homework. It was a chore and at times, a boring task that kept you from playing with your friends or watching television. It's likely your child feels the same. In fact, many children view homework as a boring endeavor containing repetitive activities, rote memorization and a general lack of fun. It's not always a social or exciting task, but it can be. As a parent or nanny, you can put the fun back into the daily homework routine with innovative strategies to engage your child. Why the Fuss? According to Dr. Elizabeth Garcia, chief academic strategist at Custom Fit, Inc., provider of academic counseling and tutoring in Fort Lee, N.J., a negative attitude about homework is common when children are involved in activities outside of school. "I think a lot of children view homework negatively because they feel over-programmed," she says. "Between school and homework and extracurricular activities, they can feel like they have no time to unwind and do the things they want to do." Since extracurricular activities are pretty fun, homework comes in for the bulk of the bad feelings, says Garcia. "Many students are burnt out in all areas," she says. "And, they rush through assignments so as to complete each one on time instead of using them as ways to reinforce what they have learned." Students view homework negatively because they cannot properly absorb what they learned due to time restraints, says Garcia. Tackling Time and Distractions Since time constraints tend to contribute to the "pain" of homework, it's important to create a consistent schedule for work and play with your child. Just as you would compile a weekly meal calendar or a chore chart, construct an activity schedule for the family, slotting out time for soccer practices, basketball games and more importantly, homework. If your child is more focused right after school, reserve an hour for quiet homework sessions as soon as he or she returns home. Some children, though, may need a bit of a break from a day of school, so evening hours may work best. Even if you do not designate the same time each day, make sure homework is on the schedule to provide consistency and to establish expectations for your child. Eliminating distractions can also help make homework time more productive. Have your child designate a study space free of distractions in your home, suggests Ana Homayoun, author and founder of Green Ivy Educational Consulting in Los Altos, California. Turn off the television, remove all electronics and set up a desk with tools such as pens, pencils, paper, a calculator, scissors and rulers. This ensures there will be no need for your child to wander around to find what he needs to complete his homework. Sit down with your child for the first 10 minutes to help him or her organize the workload, too. "Sometimes, students don't know how to get started and are overwhelmed by all the different things they need to do," says Homayoun. "Sitting down with them and having them make a list and prioritize what they will do first, second and third can alleviate the stress." The key is to have them collaborate and converse with the parent or nanny without the adult taking the lead. This will teach your child how to prioritize and take responsibility for his assigned tasks. Make Homework Fun In a child's mind, the word "fun" is not often associated with homework. However, you can help make his required work a little more exciting with innovative activities and games. "It's important to emphasize the interesting parts of homework," says Garcia. "While writing a history paper on Louis XIV, for example, a student and I looked at his affairs as though it was an episode of a reality TV show. His life was every bit as dramatic as the Kardashians' and that makes him someone they can relate to, not just a random name in a book." Beyond making an assignment interesting, you can also add humor to the task. "Another student and I were working on a Spanish presentation and included a bunch of silly photos of him," says Garcia. "Coming up with the funny scenarios helped ease the pain of coming up with descriptive Spanish sentences. The same sort of activity can work for English, science and even math." Utilizing technology is also an innovative strategy to make homework more interesting
for your child. "I feel students respond best when using a mixture of mixed mediums, from the internet to books to social media sites," says Garcia. Homework assignments could revolve around using interactive computer software to learn languages, cell phone apps to research historical events, YouTube videos or Facebook pages to promote and learn about current events or even blogs to launch a campaign promoting an environmental concern. "We must update homework assignments in a way that utilizes the benefits of technological advancements," says Garcia. As a result, the dread of completing daily homework assignments may disappear.
← Financial Tips for Being Able to Retire as a Nanny | How Nannies Can Raise Responsible Children →
Comments are closed.
Search for nanny jobs
in your zipcode: