What to Look for in a Long-Term Nanny Job
February 18, 2013

| in Nannies

By Erin McNeill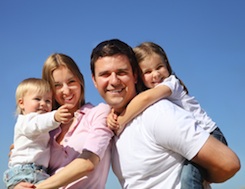 Most nannies don't begin their career looking for a job that will allow them to stay with a family for many years, possibly until all of the children off to college. However, there comes a point where you may realize that longevity with a family is exactly what you're seeking. Staying beyond the pre-school years creates a connection with the children and family that goes much deeper than the typical bond one has with the children they care for. Here are a few things to look for in
your search for a long-term family. A young family – The younger the children are when you start, the longer the position has the potential to last. When you start with a family who has just had their first child, ask if they plan on having more children. More children means more years of nanny care. A family that has children in middle school or is done having children just doesn't have the same span for needing a nanny that a younger family will. Parents who have jobs that will require a nanny long-term – Parents who work later in the evening, travel for their job or occasionally have
to work weekends are going to need a nanny longer than those who don't. Families who hold traditional jobs with no travel aren't as likely to need a nanny once their children are old enough for after-school care or to care for themselves. Make sure that you ask about longevity in your interview; it's important to know going into the position what the potential for long-term employment is. A family whose values and morals match your own – It's much easier to stay long-term with a family when you are all on the same page about child rearing, discipline, ethics and communication. When you are all on wildly different pages about different topics it's difficult to find a common meeting ground, so it's best to ask questions about things that are important to you in an interview. The family's interests reflect your own – It is easier to make lasting connections with a family who shares in some of your interests, especially if those
interests transfer over to the children. If you've played soccer your entire life and you are caring for children who are also playing, you'll enjoy the time spent bringing them to practice, watching games and running sports-related errands a bit more because you'll understand the joy that it brings to that child and family. If you are a book loving nanny who is working for a television centered family, it's likely that you aren't going to agree with the long-term implications of letting children watch so much media. When interviewing
with a family, ask them about their interests with and without the children, as this will give you a bigger picture of who they are and if they would be the right fit for you. A family that treats their nanny well – Ask to speak to the previous nanny and see how she was treated. Longevity is increased through working with a family that listens to you, is willing to work with you, offers benefits and is flexible. It's easy to want to stay with a family when they treat you like the professional that you are! In the end, only you know what will work for you when deciding to stay with a family for the long-term. It's best to know exactly what you are looking for in a family, but you should also be willing to compromise on the less important factors. There is something uniquely special and wonderful about seeing children grow from an infant to a high school graduate and knowing that you had a helping hand in the wonderful adult that they've now become.
← 10 Tips for Helping Kids Be Independent | Writing a Letter of Introduction to Prospective Nanny Employers →
Comments are closed.
Search for nanny jobs
in your zipcode: