10 Ways Nannies Can Prepare for Emergencies
October 1, 2012

| in Nannies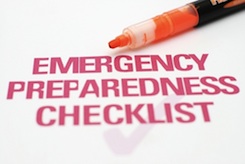 The last thing that any nanny wants to face while she's on duty is an emergency, whether its a medical one, the result of a natural disaster or an accident. The prospect of being unprepared for such an event due to a reluctance to think about their probability, however, is even more terrifying. Because the safety and health of your charges is in your hands, along with their parents' trust and peace of mind, it's imperative that you prepare for any conceivable emergency. Here are ten of the steps
that you simply can't overlook, in the interest of protecting the children in your care, should disaster strike.
Familiarize Yourself With Emergency Contact Information – Whether an emergency is a major one or of the less catastrophic variety, you'll need to know exactly who should be contacted in any situation and how to best get in touch with them. A list of emergency contacts, including the numbers for local police and Poison Control, is the best way to prevent desperate scrambling for phone numbers in a high-pressure situation.
Know Where Fire Extinguishers Are Located – Cooking isn't the only fire risk in the average house, so you'll need to know exactly where fire extinguishers are located around your employers' home and how to properly operate them in the event of a fire.
Get Educated About Allergy Management – Kids with food allergies can have severe and even life-threatening reactions to some foods and additives, so it's important to know not only how to prevent exposure to known allergens but also what to do should that exposure occur anyway.
Have an Inclement Weather and Natural Disaster Plan – When bad weather strikes, it can be a mere inconvenience or an all-out emergency situation. Knowing the evacuation plan of the household, meeting places where you can find your employers should they be unreachable by phone, and how to manage basic survival with your charges under your care is essential.
Keep a First Aid Kit On Hand – Some injury emergencies require an ambulance, but most will require a bandage, some antibiotic ointment and plenty of love. Whichever type you encounter, however, it's absolutely imperative that you be prepared to handle it.
Make Sure CPR and First Aid Certifications Are Up-to-Date – Choking-related injuries and deaths are far more common than most parents and even childcare providers realize, so it's absolutely necessary that you keep your CPR and other life-saving maneuver training current. These skills can get rusty and details can be forgotten when they go unused and untested for long periods of time, so be sure to retake classes regularly.
Get a Letter of Consent for Medical Treatment – Should a medical emergency occur at a time when your employers are out of reach, an injured or ill charge could be delayed in receiving the treatment that she needs unless you have a signed letter of consent from your employers stating that you are authorized to give consent for treatment. It's a good idea to keep a letter on file at the child's pediatrician's office as well.
Learn to Arm and Disarm Home Security Systems – You'll need to know how to disarm a system to avoid sending false alarms to law enforcement and emergency personnel, but you'll also need to know how to arm it and how to send legitimate alerts in the event of them becoming necessary.
Teach Kids Basic Emergency Preparedness – Your level

of preparedness will matter very little if the children you're caring for have no idea how to respond or behave during an emergency situation. In addition to ensuring that they'll have this knowledge, training them in basic emergency preparedness will also give them the essential skills that they'll need in the event of an emergency when you or your employers aren't within reach.

Have Insurance Information On Hand – Even if you have a letter of consent to treatment from your employer, your charges could still experience treatment delays if you don't have access to their insurance information. Be sure that you discuss the subject with your employer to determine exactly what you'll need, should you have to take the children to the doctor's office or hospital.
It's almost impossible to be prepared for every possible situation, but making the effort to cover as many bases as possible could make all the difference, should an emergency arise. Discuss your preparedness plan with your employers and work together to draft a cohesive plan so that everyone is well-informed and on the same page.
← Discussing Safety Concerns with Your Nanny Employer | 9 Ways to Welcome Your New Live-In Nanny into Your Home →
Comments are closed.
Search for nanny jobs
in your zipcode: