9 Ways to Welcome Your New Live-In Nanny into Your Home
October 4, 2012

| in Nannies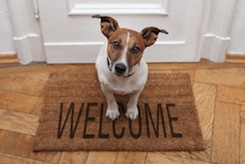 Congratulations, you've hired a new nanny! Beginning to work with a new nanny is an exciting time, and welcoming her into your home, especially if she's a live-in nanny, is an important step in developing a good nanny / family relationship. Here are some simple ways to make your new live-in nanny comfortable in her new home and job.
Let her make simple decorating choices for her living space. Allowing your nanny to paint the walls a fresh color, add new curtains, or rearrange the furniture gives her the opportunity to personalize the room. Being comfortable in her own space is essential and will help her feel like she lives there rather than feel like she's simply a long-term guest.
Give her a gift certificate to a home store. Everyone has different tastes and the comforter that you love could be something that doesn't quite suit your nanny's style. A gift certificate lets her pick out something she's going to love coming home to every night. A new sheet set, a funky lamp or a foot friendly rug can make a big difference. Doing so also shows that you recognize this is new for her and that you want her to feel right at home.
Order a visitor packet from the local tourist department. There's a good chance your new live-in is also new to the area. Tapping into the resources your city makes available to visitors is a free and easy way to introduce her to all that your state, city and neighborhood have to offer. If your city has a user-friendly public transportation system, have maps and schedules for the local lines mailed to you and add them to the visitors package.
Introduce her to other local nannies. It can be hard to make new friends as a nanny in a new area. It's an isolating job and your nanny doesn't have the advantage of meeting co-workers on her first day. Ask other nannies you know if they'd be willing to give your new nanny a call and maybe even invite her out to dinner during her first week there. They may not become best friends but it will help your nanny start to build a new social circle.
Give her an area coupon book. These coupon books usually offer 2 for 1 or 50% off deals to local restaurants, movie theaters, museums, fairs, stores and lots of other attractions. They often list both popular and out of the way venues so your nanny will discover a wide variety of things to do and see. Having the coupons will make getting out and about more affordable and give her a great reason to ask new friends to join her.
Have a welcome family dinner. Even if your nanny won't be ordinarily eating with your family, invite her to share in a family meal so you can get to know each other personally a little better before jumping into your employment relationship. Living together means your lives will intersect in unique ways so developing a connection will help everyone feel more comfortable.
Give her a tour of the places she'll need to know for the job. There's a good chance your new nanny isn't familiar with your area. It'll be helpful to her if you take a morning or afternoon to give her a tour of your child's favorite playgrounds, the YMCA where he takes swimming lessons, the school, the grocery store and other places she'll likely need to find in her first days. Of course she won't remember the addresses or probably even how to get there right away, but being even a little

familiar with things will make it all seem a little less overwhelming.

Small gifts mean a lot. Placing a vase of fresh flowers on her nightstand or helping your child make a welcome card for her will show her that you're excited she's there. It's a little scary moving into a family's home, simply because a nanny never really knows what to expect. Taking the time to offer a special welcome gift can ease a lot of fears.
Remind her that she's welcome to use the house as her own. The beginning days of living with a family can be uncomfortable. She's your employee, yet she's also living in your home. Offering a simple invitation to add what she wants to the grocery list or watch TV in the family room can make her feel more comfortable and help her settle into her new home.
Bringing a new nanny into your home is an exciting time. By taking the time to do a few special things, you can let her know how glad you are that she's there.
← 10 Ways Nannies Can Prepare for Emergencies | How to Write a Cover Letter for a Nanny Job →
Comments are closed.
Search for nanny jobs
in your zipcode: